Welcome to the official website for Irish Suffolk Sheep breeders. Irish Suffolks have been leading contributors to the sheep industry in Ireland for over 125 years. 
Suffolk is the flag-ship domestic breed and is recognised as the leading terminal sire on a variety of commercial ewes to produce top quality prime lamb. The breed has been in existence since the late 1700s.
Sheep Ireland is the South of Ireland Branch Suffolk Sheep Society's pedigree software solution for managing and maintaining the pedigree Irish Flock Book.
Click on the "Sheep Ireland Search" button below to search for an individual animal, breeder or flock. Members can also manage their flock online.  You can use your online account to record the information required by the breed society throughout the year – i.e., mating, lambing, animal movements etc. You can also request pedigree registrations and animal genotypes via the account. Several helpful flock management reports for your flock are also available. There is a HELP button at the top of most pages with instructions and guidance on how the page works.
If you wish to search for a UK sheep or UK breeder with the Suffolk Sheep Society Ltd. Flock Book, click the "Grassroots UK Search" button below.
Stay up to date with our latest events.
Dan O'Mahony (Chair & Council Representative)
Garth Graham (Vice Chair)
Teresa McGeever (Treasurer)
Oliver Deane (Council Representative)
Susan O'Keeffe
Sean O'Connor
John Gahan
Philip Lynch
Alan Kilpatrick
Niall Cassidy
Paddy Carolan
Gerry Killilea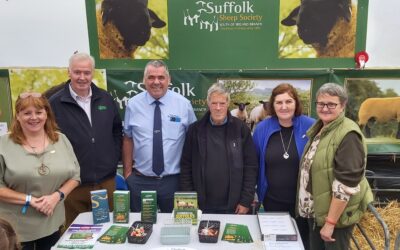 The best of Irish Suffolk Sheep showcased at Ratheniska Members of the Suffolk Sheep Society welcome Barrie Turner, incoming CEO of Suffolk Sheep Society UK to the stand The National Ploughing Championships returned after an absence of three years due to the pandemic...
read more
For further information email your request to enquiries@irishsuffolksheep.org
Suffolk Sheep Society - South of Ireland, Ballygawley, Co Sligo, F91 E8P2
+353 83 0907 313
South of Ireland Branch Suffolk Sheep Society Ltd, a company limited by guarantee, Registered in Ireland No. 222263
Registered Address Upton Ryan, Fourth Floor, North Block, Rockfield Central, Dublin 16