Trading under EU Regulation: The Suffolk Sheep Society – South of Ireland operates the largest Ovine, Department of Agriculture and the Marine approved Breeding Program in Ireland, allowing our breeders to trade Irish Suffolk Sheep within the EU and with non EU counties under EU Regulation 2016/1012. Irish Suffolk Sheep Breeding Program Information. Click here
Welcome to the official website for Irish Suffolk Sheep breeders. Irish Suffolk Sheep have been leading contributors to the sheep industry in Ireland for over 125 years. 
Suffolk is the flag-ship domestic breed and is recognised as the leading terminal sire on a variety of commercial ewes to produce top quality prime lamb. The breed has been in existence since the late 1700s.
Sheep Ireland is the South of Ireland Branch Suffolk Sheep Society's pedigree software solution for managing and maintaining the pedigree Irish Flock Book.
Click on the "Sheep Ireland Search" button below to search for an individual animal, breeder or flock. Members can also manage their flock online.  You can use your online account to record the information required by the breed society throughout the year – i.e., mating, lambing, animal movements etc. You can also request pedigree registrations and animal genotypes via the account. Several helpful flock management reports for your flock are also available. There is a HELP button at the top of most pages with instructions and guidance on how the page works.
If you wish to search for a UK sheep or UK breeder with the Suffolk Sheep Society Ltd. Flock Book, click the "Grassroots UK Search" button below.
Stay up to date with our latest events.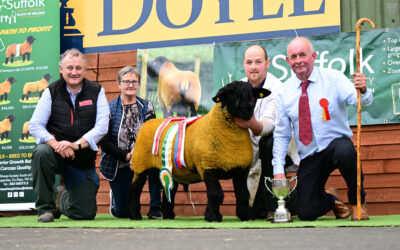 The South of Ireland Premier Show & Sale took place on August 4th & 5th in Blessington Mart The 137th Annual Show & Sale of the Suffolk Sheep Society South of Ireland took place in Blessington Mart on Saturday August 5th where auctioneer Mr John Doyle...
read more
For any enquiries relating to the South of Ireland Suffolk Sheep Society / Suffolk Sheep events, please complete this form and we will contact you back as soon as possible
About Us: The South of Ireland Suffolk Sheep Society is the leading Breed Society for the Suffolk Sheep Breed in Ireland. The running of the Society is carried out on behalf of members by a committee comprising of twelve members with three representatives from each Province and an Honorary Secretary. Day to day work and registrations are carried out by an Administrator.
*About your personal information
The information you provide here is for contact purposes and will be accessed by our designated staff.
South of Ireland Branch Suffolk Sheep Society Ltd, a company limited by guarantee, Registered in Ireland No. 222263
Registered Address Upton Ryan, Fourth Floor, North Block, Rockfield Central, Dublin 16