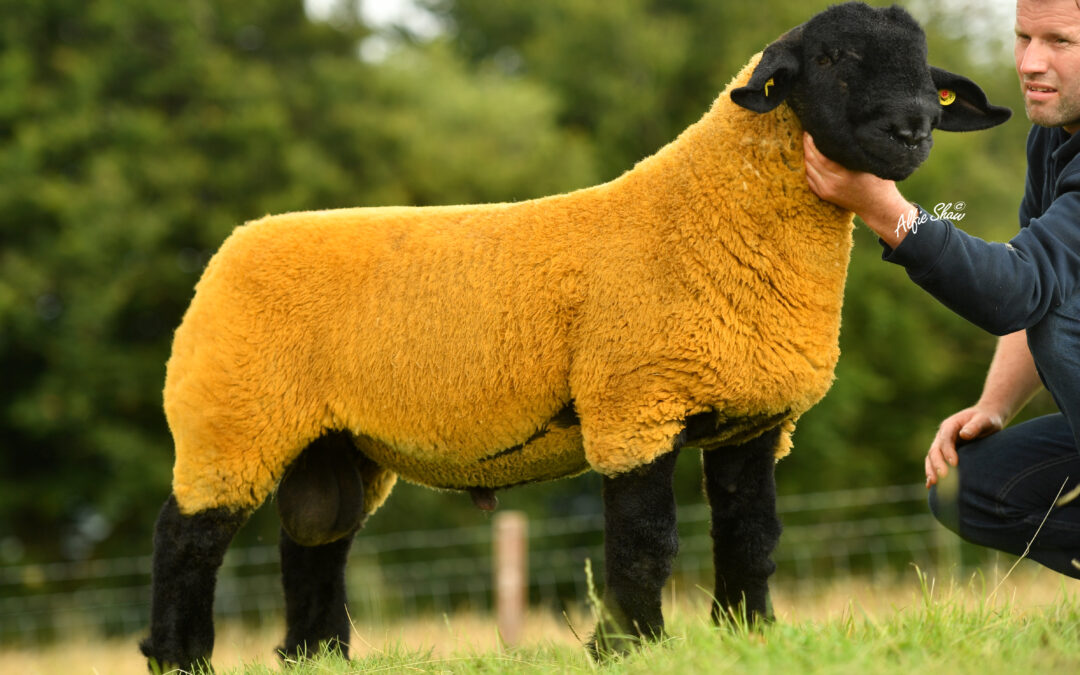 Ballinatone Flock Suffolk Ram sets New Irish Record at Blessington
Date: 2nd August 2021
Auctioneer: JP & M Doyle
Judge: William Tait, Burnview Flock
Blessington Mart was the place to be on August Bank Holiday Monday. A packed mart saw the highest price paid for a sheep in Ireland when the hammer fell on Richard Thompson's (Donegal) ram lamb at €44,000. But this wasn't just a breeder's sale, an excellent clearance of 81% in the ram lamb class had the lot, breeders lambs at record prices, forty-one sheep exported and a strong commercial turnout with over 60% of sheep sold meeting the needs of the Irish commercial farmer. Although the overall sale average was €1.884 with a clearance of over 83%, the average price for commercial sheep was €660 to €670.
The record breaking top priced Lot 70 from Richard's Ballinatone Flock is a son of the 2017 born Solwaybank Sapphire 2 out of a Mountford Mustang sired Ballynacannon ewe. Coming second in the Novice class, he was bought by Northern Ireland breeders Dennis Taylor, for his Ballynacannon flock based near Coleraine, County Antrim's Alaistair Gault (Forkins flock), Ronan McLaughlin from Donegal (Ballyboe flock) and Portuguese breeder Joao Guilherme with Richard Thompson retaining a share. The Ballinatone pen also had the highest average at €15,625 for three sheep sold.
Darragh McMenamin's (Mullinvale Flock, Donegal) Breed Champion, and winner of both the Novice and Open Ram Lamb classes, was next in the money list with Judge William Tait (S & W Tait, Burnview Flock) paying €34,000 for this Salopian Scuderia sired ram lamb out of a Balquhain dam for his Co Tyrone based flock. The Mullinvale pen had the second highest average after Ballinatone at €6,575 for 6 ram lambs sold.
Maghera breeder, Stephen Sufferin (Crewelands Flock, N Ireland) paid €7,500 and €6,500 for Philip Byrne's (Kilkenny) lot 119 and Richard Wilson's (Donegal) lot 194 respectively. Byrne's Limepark flock bred Muirton One Direction sired lamb is out of a Limepark ewe. Richard Wilson's February born Shannagh ram lamb is by last years Champion, Kells T-Rex, out of a Birness Murray sired Shannagh dam.
Two sheep then sold for €5,000. Brian and Gus Doyle's (Kilmacoo Flock) lot 129 was the top price ram going to mainland Europe and was bought by French breeder, Sebastian Delval. This Kilmacoo ram lamb is the son of Errigal Grim Reaper out of a Birness dam. The other €5,000 priced sheep was lot 173 from J & M Doherty's Malinhead Flock. P J Howard (Co Clare) bought this Limestone Red Rum sired ram lamb out of a homebred dam.
The females got the sale off to an excellent start with James O'Connell's lot 7 Knockogan Shearling Ewe topping the female money list at €1,600 for his Female Champion purchased by F & S Brigdale for their Co Clare based Atomic Flock. The Reserve Female Champion, Kenneth Bailey's winner of the Ewe Lamb Class got €1,400 from Michael McHugh of Co Wicklow.
Averages:
Overall:
Top: €44,000
Clearance: 83% (160 sold)
Average: €1,884
Shearling Ewes:
Top: €1,600
Clearance: 89% (16 sold)
Average: €909
Ewe Lambs:
Top: €1,400
Clearance: 95% (20 sold)
Average: €732
Ram Lambs:
Top: €44,000
Clearance: 81% (124 sold)
Average: €1,851
| | | | |
| --- | --- | --- | --- |
| LOT NO. | FLOCK | PRICE IN EUROS | BUYER |
| 70 | BALLINATONE | 44,000 | PDW Taylor, A Gault, R McLaughlin, R Thompson & J Guilherme |
| 158 | MULLINVALE | 34,000 | S & W Tait |
| 119 | LIMEPARK | 7,500 | S Sufferin |
| 194 | SHANNAGH | 6,500 | S Sufferin |
| 129 | KILMACOO | 5,000 | S Delval |
| 173 | MALINHEAD | 5,000 | PJ Howard |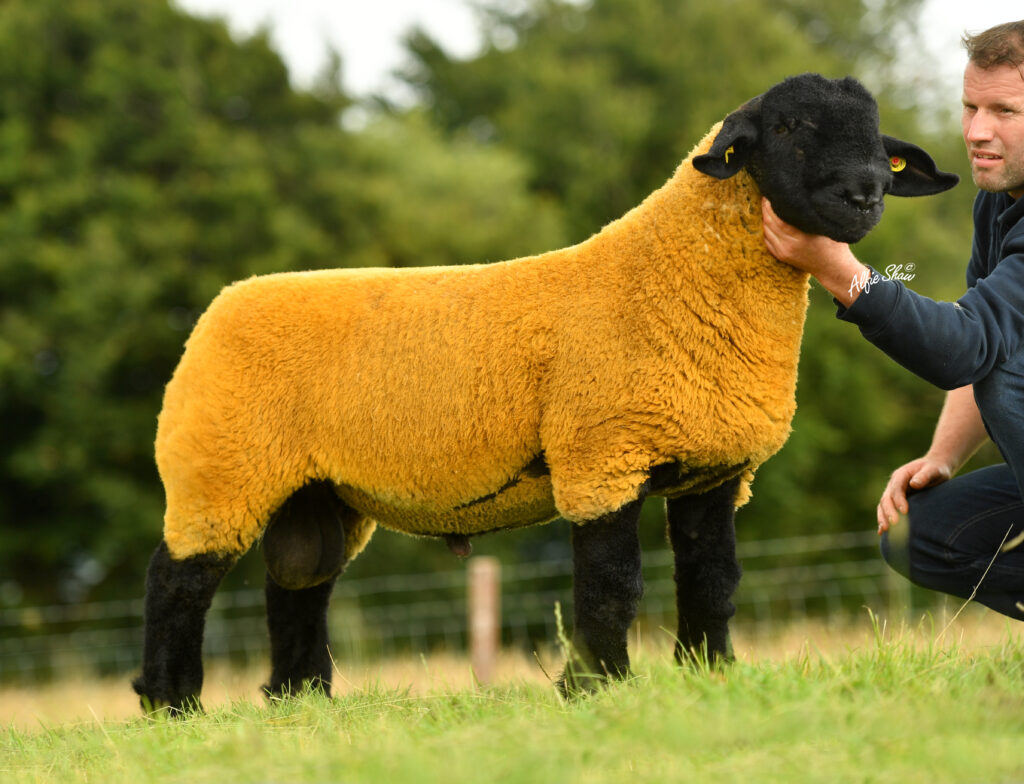 Show Results
Male and Supreme Champion
1st Lot 158 Darragh McMenamin
UJU:21:02676 by Salopian Scuderia
Reserve Male and Overall Reserve Champion
1st Lot 133 Arthur O'Keeffe
R15:21:06302 by Castleisle Kilteskin Prince
Female Champion
Lot 7 James O'Connell
DBJ:20:02212 by Shannagh Synergy
Reserve Female Champion
Lot 31 Kenneth Bailey
HDC:21:00172 by Cairness Cobra
Class 1- Shearling Ewe
1stLot 7 James O'Connell
DBJ:20:02212 by Shannagh Synergy
2nd Lot 11 Kenneth Bailey
HDC:20:00125 by Cairness Corker
3rd Lot 5 John Hanly
G4:20:02645 by Limestone Lowry
Class 2- Ewe Lamb
1st Lot 31 Kenneth Bailey
HDC:21:00172 by Cairness Cobra
2nd Lot 35 Robert Tait
18W:21:02433 by Glenagh Gideon
3rd Lot 32 Philip Lynch
CZK:21:01017 by Benedyglen Big Jack
Class 3- Shearling Ram
1st Lot 47 James O'Connell
DBJ:20:02276 by Shannagh Synergy
Class 4- Ram Lamb Sired by a SOI Bred Ram
1st Lot 133 Arthur O'Keeffe
R15:21:06302 by Castleisle Kilteskin Prince
2nd Lot 211 Brian & Gus Doyle
UTX:21:00174 by Errigal Grim Reaper
3rd Lot 77 John A Doherty
CFN:21:03102 by Shannagh Top Gun II
Class 5- Recorded Ram Lamb Class
1st Lot 128 Susan O'Keeffe
BYD:21:02580 by Burnview One For Arthur
2nd Lot 121 Philip Lynch
CZK:21:01024 by Strathbogie Kind Of Magic
3rd Lot 78 John A Doherty
CFN:21:03103 by Shannagh Top Gun II
Class 6- Novice Ram Lamb
1st Lot 158 Darragh McMenamin
UJU:21:02676 by Salopian Scuderia
2nd Lot 70 Richard Thompson
TDL:21:03062 by Solwaybank Sapphire 2
3rd Lot 129 Brian & Gus Doyle
UTX:21:00179 by Errigal Grim Reaper
Class 7 – Open Ram Lamb
1st Lot 158 Darragh McMenamin
UJU:21:02676 by Salopian Scuderia
2nd Lot 122 Philip Lynch
CZK:21:01024 by Strathbogie A Kind Of Magic
3rd Lot 119 Philip Byrne
TJW:21:00048 by Muirton One Direction
Class 8 – Gigot Class
1st Lot 81 Robert Tait
18W:21:02446 by Errigal Masterpiece
2nd Lot 85 John Stacey
JYO:21:01152 by Benrafton Panther
3rd Lot 161 John & Esther Gahan
SKW:21:00558 by Forkins Franko
Group of Three
1st Lots 156, 58, 60 Darragh McMenamin
UJU:21:02650, UJU:21:02624, UJU:21:02643
2nd Lots 108, 109, 110 Eamon Duffy
C46:21:03216, C46:21:02176, C46:21:03158
3rd Lots 70, 71, 165 Richard Thompson
TDL:21:03062, TDL:21:03064, TDL:21:03065