Suffolk Sheep Society AGM
The Suffolk Sheep Society recently held its AGM in Tullamore.
The meeting was Chaired by outgoing Chairman Mr Dan O'Mahony who welcomed all the attendees. Mr O'Mahony thanked the Committee for all their hard work during the year. He re-iterated that much had been achieved in 2022 and he mentioned the fact that the Society is attracting many new breeders. He also stated that in the post Brexit era, the future is looking bright for the Society and the Suffolk breed and that there are many opportunities to be availed of by breeders.
The committee were delighted to have Mr Robin McIlrath, outgoing CEO of the Suffolk Sheep Society UK, along with his wife Roberta  in attendance at the meeting. A presentation was made by the Society to Robin as a token of appreciation for his all his hard work and guidance in the South of Ireland throughout his tenure as CEO and the Committee and attendees wished him well in his retirement.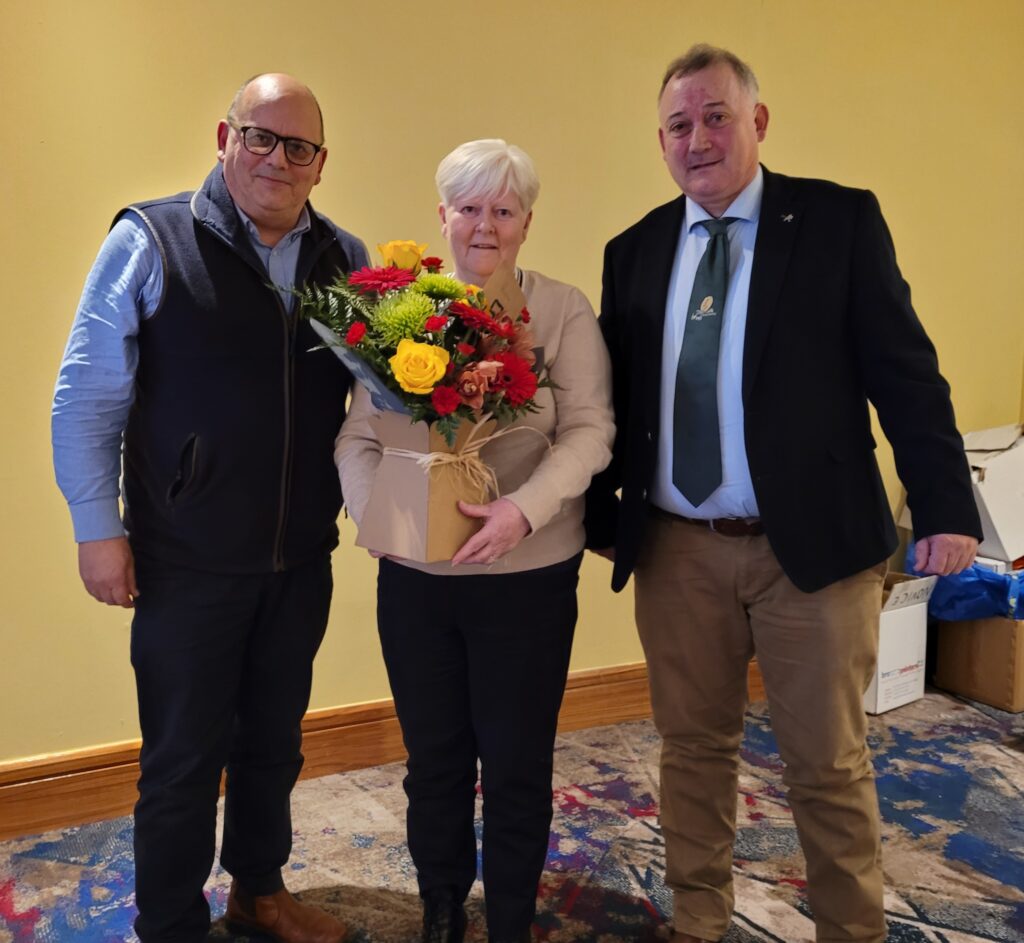 Mr O'Mahony thanked attendees for coming and wished everyone well with their 2023 lambing season.
At the end of the meeting the presentation of prizes to the winners at the Premier Show took place. Winners of each class detailed below:
| | |
| --- | --- |
| SHEARLING EWE | ANDY SMITH |
| EWE LAMB | COLIN WATCHORN |
| SHEARLING RAM | JOHN HANLY |
| RAM SIRED BY SOI BRED RAM | PATRICK O'KEEFFE |
| RECORDED CLASS | COLIN WATCHORN |
| NOVICE RAM LAMB | DOHERTY BROS |
| OPEN RAM LAMB | AJ & JA LUCAS |
| GIGOT RAM LAMB | SUSAN O'KEEFFE |
| GROUP OF THREE RAM LAMBS | AJ & JA LUCAS |
| FEMALE CHAMPION | COLIN WATCHORN |
| MALE CHAMPION | AJ & JA LUCAS (OPEN RAM WINNER) |
| SUPREME CHAMPION | AJ & JA LUCAS |
| SHEPHERD OF THE SHOW | AJ & JA LUCAS |
| SIRE OF THE YEAR | SEAMUS BROWNE -LIMESTONE GOLD RUSH |
| HOMEBRED SIRE OF THE YEAR | ANDREW WILSON/EAMONN DUFFY KELLS T-REX |